NKMSA Supports the Brighton Center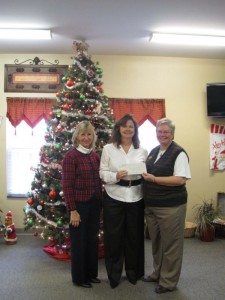 The Northern Kentucky Medical Society Alliance (the Alliance) is pleased to
announce a donation to the Brighton Recovery Center for Women in Florence
Kentucky.  The donation is the result of a silent auction held at the annual
Northern Kentucky Medical Society Holiday Dance held on December 1 st
On Wednesday December 14, Kathleen Lape, President of the Alliance and Karla
Kennedy, Executive Director of NKMS delivered the donation of $1,390.00 to
Anita Prather, Director of  Brighton Center and Rebecca  Timberlake
Development Director.  The Brighton Recovery Center for Women is a 100-bed
facility that utilizes recovery dynamics and a holistic long term approach to
recovery.  The vision of the center is to provide a safe, healthy environment for
women within a structured, peer driven community setting that values sobriety,
on going recovery and accountability by fostering education, community
awareness family reunification and self-sufficiency.  You will never find lives
changed more profoundly than those who pass thru the Brighton Recovery
Center.
For more information on the Brighton Recovery Center for Women or to make a
donation, please visit www.Brightoncenter.com