For Immediate Release
For more information contact:
Karla Kennedy
(859) 496-6567
nkms@nkms.org
NKMS REIMBURSES LOCAL PRE-MEDICAL STUDENTS
Crestview Hills, KY – October 24, 2017 – The Northern Kentucky Medical Society ("NKMS") is pleased to announce that it reimbursed pre-medical students at Thomas More College and Northern Kentucky University for a portion of the costs associated with the Medical College Admission Test ("MCAT") fees.
According to Mark Schroer, M.D., President of the NKMS, "We believe it is important to support and encourage students in our community who are considering a career in medicine.  Therefore, we are happy to help offset part of the cost of the MCAT fees for these students."
Seven students from Thomas More College and ten students from Northern Kentucky University received the reimbursement.
To learn more about the NKMS, please visit http://nkms.org
The mission of the Northern Kentucky Medical Society is to bring together the physicians of Boone, Campbell and Kenton counties by providing the professional and social networking base that promotes advocacy, leadership, and service in the practice of medicine.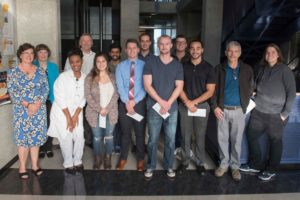 Above-Northern Kentucky University photo-featured from left to right:
Dr. Amy Haney (Board Member at Large, NKMS), Dr. Diana McGill (Dean, College of Arts and Sciences),
Akia Dawson (student), Dr. Mike Scola (Faculty, Pre-Med Review Board Member), Ashley Vecchiola (student), Harsh Patel (student), Hunter Campbell (student), Richard McLane (student), Nicholas Brinkman (student), Max Boyle (student ), Cornelius Kish (student), Dr. Patrick Schultheis (Pre-Med Review Board Member), Dr. Erin Strome (Pre-Med Review Board Member) (Students not shown: Rachel LeDuc and Shelby Lesak).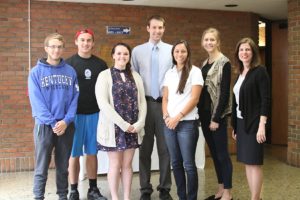 Above-Thomas More College photo-featured from left to right:
Eli Nienaber (student), Will Neltner (student), Brianna Wilbur (student), Dr. James Schack (Board Member at Large, NKMS), Laura Felix (student), Maria Rechtin (student), K. Siobhan Barone, PhD (Professor, Department of Biological Sciences), (Students not shown: Nick Auteri and Tyler Harley).